Vincent Vein Center
Vincent Vein Center is a varicose vein specialist in Grand Junction, CO. We gladly accept referrals from healthcare providers and physicians in the Grand Junction area. We provide ultrasound evaluation to diagnose Deep Vein Thrombosis. Evaluation and treatment options are also available for Superficial Venous Insufficiency.
When your patient visits our office for an evaluation and/or proceeds with treatment, we communicate those plans with you. We want to involve healthcare providers throughout their patient's treatment process. We also work closely with wound care centers to manage underlying vein treatments. The patient can continue to receive wound care from the referring wound care center.
Treatment Plans for Varicose Veins
Vincent Vein Center offers several treatment plans for treating varicose veins, as well as other vein issues. When treating varicose veins, we offer services such as Ultrasound-Guided Sclerotherapy and Endovenous Laser Treatment.
Ultrasound-Guided Sclerotherapy involves the injection of medicine into the vein. Endovenous Laser Treatment is a non-invasive treatment option that uses laser light to close damaged veins off and reroute blood flow to other healthy veins. Fortunately, the recovery times for these treatments are fairly quick. Over time, your patient will notice immediate differences in their varicose veins. Instantly improving the well-being of your patient.
Varicose Vein Specialist in Grand Junction
In addition to our treatment plans, we offer cosmetic treatment options. These treatments are meant to help with the appearance of spider veins. Treatments for spider veins are generally simple and are ideally completed after any varicose vein treatments. This treatment option is purely cosmetic, but it will instantly boost the confidence of your patient.
Physician Referrals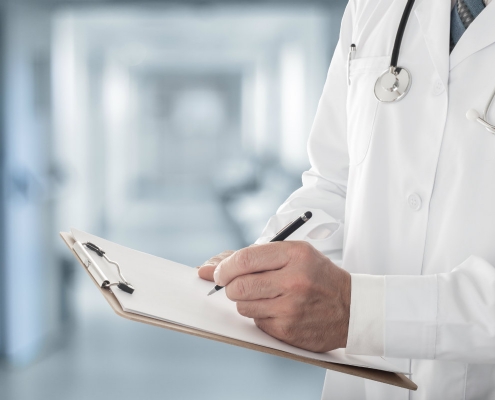 If you or your office staff would like to receive a visit from our staff to give you additional information about our treatments and services, please call our office to arrange a visit.
We will be happy to send you additional information and referral forms. We can also visit with your staff to answer any questions they may have about our treatment process. Our varicose vein specialist in Grand Junction, CO will help with your treatment and more.
Have any questions about our varicose vein specialist in Grand Junction and the surrounding areas of Orchard Mesa, Delta, and Montrose? Please contact us today!