What is Endovenous Laser Treatment?
Endovenous Laser Treatment is the insertion of a thin fiber into the damaged vein through a very small puncture site in the skin. The process of treatment is generally simple due to it being a non-invasive method of treatment. This treatment is commonly used for very large veins, or for veins in higher-pressure areas, such as in the upper thighs. Commonly use for Venous Stasis Ulcers.
Treatment Process
Laser light is sent through the fiber, causing the vein to be heated from the inside. As the fiber is slowly pulled out of the vein, the vein tissue reacts with the light energy, causing the vein to close and seal shut.
The veins that are closed are superficial veins that handle less than five percent of the body's blood flow. The blood is then automatically routed to other healthy veins that will work more effectively to move the blood back up to the heart.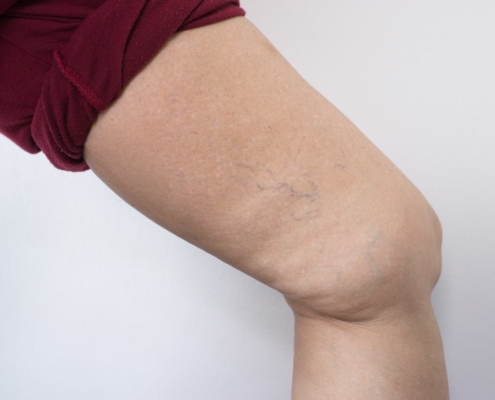 What To Expect During Treatment
The Endovenous Laser Treatment is done in our office and you will be awake the entire time. We give local anesthesia (numbing shots) to help with any pain involved with the procedure. The local anesthesia will prevent any pain. The only sensation you may feel during the procedure is the pressure when the thin fiber is inserted into the damaged vein. You will also wear protective glasses to protect your eyes from the laser during the procedure.
What to Expect After Treatment
The Endovenous Laser Treatment is fairly simple compared to other procedures, so you will be able to leave the office soon after. The treated area is covered with light gauze padding and a compression stocking. You will also be able to return to normal activity, with the exception of high-impact activities like running or jumping.